The No Poo Method: What You Need to Know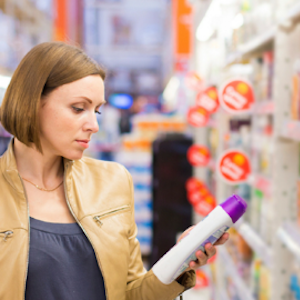 If you read anything even remotely connected to style, fashion or celebs you, no doubt, have noticed more than a few stories about the "no poo movement." You've probably even nodded your head as you read why Kim Kardashian, Gwyneth Paltrow, Jennifer Aniston, Adele and Johnny Depp are taking extreme steps to remove needless exposure to harsh chemicals in their lives. But before you toss all your haircare products and start skipping washes all together, let's consider a few things first.
What is the No Poo Movement all about?
What exactly does the "no poo" trend involve? As the name implies, it's the practice of not washing your hair with shampoo on a daily basis. Most of the celebrities who follow this personal hygiene practice claim to suds up once or twice a week. Some people do it to reduce or eliminate unhealthy chemicals from their lives. Others find their hair is easier to style with less use of shampoo. Both dry shampoos and cleansing conditioners are often used to either replace traditional shampoo altogether or to extend time between washes. And many simply just use water rinses in between full washes.
The no poo idea is simple: break the dependency cycle caused by using oil-stripping shampoos. If you wash away the natural oils from your hair and scalp on a daily basis, the sebaceous oil glands only produce more sebum to compensate. If you wash less, you produce less oil over time - and thereby save your hair from damage and limit exposure to the chemicals in standard hair products. So when you first start to skip the shampoo, your system needs to adjust - there's a period of greasiness while your biome rebalances. If you can wait out this period, you'll find that the sebum production slows and your hair eventually becomes shinier, less frizzy and healthier - theoretically.
The problem is most of these results seem to be anecdotal. The outcome of going "no poo" can vary greatly depending on how dry or oily your scalp is, how coarse or fine your hair is and whether you have any existing skin conditions or allergies.
Skipping washes doesn't necessarily mean that your hair care routines are simplified. To really get the most benefit out of this more natural approach, you're going to have to trade washes for brushing your hair. It's important to continue to remove dirt, dead skin and other contaminates from your hair and scalp that you normally do when you shampoo. Also, to really see the shine benefits, sebum needs to be worked all along the hair shaft and not allowed to concentrate at the scalp. That's where a habit of brushing with a soft bristle brush comes in. Brushing instead of shampooing loosens oil and dirt buildup and distributes naturally produced oils and proteins all along your hair.
Healthy Beauty Benefits
Certainly there are some health and beauty benefits to shampooing less frequently, especially if you are using standard hair care products containing sulfates, silicones and parabens. By cutting back on how often you wash, you reduce the frequency of stripping away important natural oils and proteins from your hair and scalp. You can also reduce how much damage chemicals like sulfates inflict on your hair. Slowly, over time, you are likely to see improvements in the health of your hair and scalp, especially if you have dry or coarse hair.
Drawbacks
If you have ever been in a major city like New York for any period of time, you understand that there is dirty and then there is DIRTY. In New York it's not just dirt, dust and general grime everywhere you go, but there's constant construction debris, vehicle exhaust and tons of pollutants just waiting to coat your hair, skin, clothes… everything. Unless you live on an organic farm, you're probably not going to be able to avoid most of the contaminates in our environment. You are going to have to wash. Waiting days or weeks to remove dead skin, dirt and contaminates from your scalp is going to do more harm than grabbing the nearest bottle of shampoo and lathering up. Going dirty will lead to breakouts, inflammation, irritation and possibly infections on the scalp.
The no poo method also takes a long time, months in some cases, to bring about any real healthy beauty results. Simply stopping or reducing the use of standard shampoos, conditioners and other products does nothing to remove the build-up caused by those products. Although going "no poo" eliminates the sulfates, parabens and such, without some other kind of cleansing option, you would have to wait for the chemical build-up to wear off. Also, this option does not address any of the damage your hair has already suffered. In order to see truly healthy hair, you have to wait for the damaged hair to be replaced by new growth since going "no poo."
While some people with dry, coarse or curly hair find the "no poo" option very effective, people with oily or fine hair will struggle with looking and feeling greasy between washes. Because of the need to control the greasy, dirty feeling of straight, fine or oily hair, some people will need to turn to an alternative.
Alternatives to No Poo
Water Only: While rinsing with water is better than not washing at all, remember that sebum exists to waterproof your hair. So, grime and bacteria get trapped by this waterproof coating, not washed away. Water alone can't get you to a truly healthy clean.
Dry Shampoo Dry shampoos are often touted as alternatives to sulfate shampoos, but if your objective is to remove unnecessary chemicals from your life, these options trade sulfates for other chemicals and can cause other damage to your hair that you don't get from shampoo. While dry shampoo does work to remove some excess oil and dirt, there are some downsides. First, most propellants in spray dry shampoo are flammable; in the presence of an open flame, a dry shampoo would become a blowtorch. Second, the abrasive doesn't just loosen dirt - it sandblasts the surface of the hair and the scalp. The grit of the starch and silica physically wears away the surface of the hair shaft. On a regular basis, dry shampoo can wear away at your hair until it becomes fragile and breaks. And finally, inhaling the ingredients of the aerosol is not good for you either, especially the silica and the aluminum salts found in some formulations.
Conditioning Cleansers & Co-washing: Whether you buy a special conditioning cleanser or wash with conditioner only, this method works best on thick, coarse hair. Co-washing doesn't really remove your natural oils, but it also doesn't leave you feeling daisy fresh – and fine hair can look really limp and dull. If your hair is super dry, in between regular washes, or you need a little more oil to rock an up-do, it can be a great option. Be mindful: co-washing doesn't do the best job at cleansing the scalp and can cause blockages.
Baking Soda and Vinegar: This popular DIY combo is quite capable of ridding you of the grime and buildup in your hair, but be wary – your skin has a beautifully balanced pH that protects you from infection. Baking soda and vinegar can destroy your natural defense system and dry out your scalp and hair, and, over time, inflict as much damage as sulfates do. Baking soda in particular will actually strip even more oils away from the hair and scalp than standard shampoos. If used with great frequency or over a long period of time, it will not only dry out the hair but make it brittle and prone to breakage.
Sulfate-Free Shampoo: This is the best bet for clean and healthy hair, but here's the rub: some "sulfate free" shampoos rely on lathering agents that are chemically similar to sulfates, do the same nasty damage to your hair and scalp, and keep your sebaceous glands working overtime. Do your research - make sure your lather is truly free from these harsh detergents to keep your hair and scalp naturally healthy. And if you go this route, follow with a silicone-free conditioner - silicones actually attract oil and dirt, requiring much more frequent shampoos - undoing any possible benefit of no-poo method.
No matter how you choose to shampoo or not, remember - truly gorgeous hair always begins with a healthy, balanced hair and scalp. When you take care of the system nature gave you, the results are beautiful.