Why is My Hair Falling Out?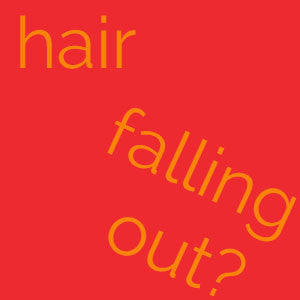 Finding lots of hair in your drain or hairbrush? Stay calm! Although the thought of hair loss can be distressing, the fact is everyone sheds up to 100 strands a day. Even if you think you're shedding in excess of that, there's still no need to ring the alarm just yet. Understanding the cause of your loss is the first step in helping to solve your problem.
Is it hair loss or breakage?
The first step is to figure out whether it's hair loss or just breakage. If your hair is weak or damaged, there's a good chance it's actually breaking, not falling out. To determine the difference, take a close look at your shed hairs. Do the ends look tapered, split or frayed? That's a sign of hair breakage -- and your hair care habits may be to blame.
While those with dry or curly hair are at a higher risk (both hair types tend to be more brittle), breakage can occur on anyone who isn't treating their hair with kindness. Heat styling, combing hair while wet, wearing tight ponytails and over-processing can weaken the hair shaft and cause it to snap. Sulfates and other aggressive detergents in conventional shampoos can compound the problem by disturbing your biome. They remove your natural protective oils and lift the cuticle, weakening the overall structure of your strands. Treat your hair and scalp a little kinder, and you'll be on the track to fuller tresses in no time.
Alternately, do you see a little bulb attached to the end of the hair? That tiny bulb is the root – a sign that the hair has fallen out from the follicle. Shedding is part of the natural hair growth cycle ‒ but if it seems like you're losing more than your fair share, lots of factors may be to blame. Stress, hormones, certain birth control pills, thyroid issues, medications, nutritional deficiencies, autoimmune disorders and good old genetics can all contribute to hair loss. Even skin conditions like psoriasis and dermatitis can interfere with follicular health and hair growth. To get you started on the right solution, speak to your doctor to determine your unique cause of loss.
How can I make my thinning hair look fuller?
Whether it's caused by breakage or loss, you CAN make the best of what you've got (and diminish further damage while you're at it) with a few simple changes to your routine:
Take Care of Your Scalp: No matter what your hair type or issue, your scalp plays a big part in the health of your hair. Make sure to choose a non-irritating, sulfate-free shampoo – one that lathers – to effectively clean without removing your natural protective oils. Sulfates over-strip the hair of its biological defenses, leading to damage, breakage and compromising the health of your follicles.
Lighten Up: If your hair is thin or thinning, make sure your conditioners aren't weighing you down. Silicones and heavy waxes attract more dirt and weigh hair down – making it look limp and exaggerating exactly what you want to camouflage. Stick to lightweight, silicone-free formulas to help your hair look more voluminous.
Keep Cool: Try to limit use of heat styling and air dry as much as possible. If you do need to use heat, make sure to use the lowest setting. Although this won't affect hair growth, itwill prevent damage – and help you keep the hair you have.
The Finishing Touch: If you require a finishing product, the key word is once again 'light.' Choose weightless mists or sprays over gels, mousses or serums – which attract heavy dirt and oils. Like conditioners, the heavier your product, the heavier your hair will hang – drawing attention to thin or sparse regions. The lighter your product, the fuller your hair will appear.
Upgrade Your Groceries: You already know what the right nutrition does for the rest of your body – the same holds true for your hair. Include sources of follicle-nourishing iron, biotin and zinc found in leafy greens, lean cuts of red meat, beans and tofu. Adding more omega-3s found in salmon or flax seeds can help keep your scalp healthy and moisturized and may even help prevent loss.
Talk to Your Stylist: Your stylist is your go-to for finding the best look for your thinning hair. The right cut is enormously helpful. Going shorter, adding layers, making some strategic color choices and even a simple part change can all create a fuller appearance.
Talk to Your Doctor: If you're sure that your hair is in fact thinning, talk with your doctor to pinpoint the problem. As devastating as hair loss seems, once you've ruled out more serious health concerns, together you can devise a plan to help prevent further loss.